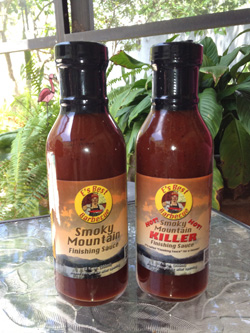 E's Best Smoky Mountain Finishing Sauce is a full flavored western Carolina original that goes great on just about anything. While the vinegar-based sauces of Eastern Carolina and the Piedmont may be better known, neither has had the impact that the western Carolina style sauce has had outside of North Carolina.
In fact, the popular sauces of Tennessee, Georgia, Alabama, Kansas City, and Texas, are all derived from the original tomato-based recipe that came from the Carolina Smokies.
Over the years, Smoky Mountain Finishing Sauce has been introduced to many friends in Florida and the Carolinas. It's growing popularity quickly led to bottling it commercially. A number of friends have since relocated out of state and now E's Best products are in demand and available far beyond just the Carolinas and Florida!
So, go vinegar if you want, but the most popular flavor from North Carolina is the original taste of the Carolina Smokies. Try E's Best Smoky Mountain Finishing Sauce!
---
---